Sewerage Disposal (WS.6)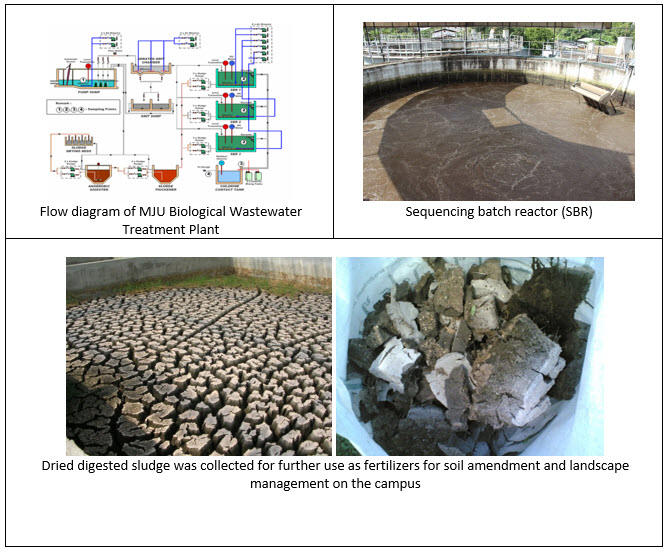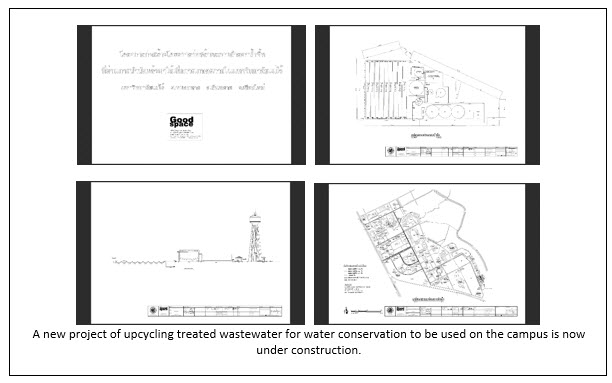 Description: Sewage disposal system and wastewater recycling program
100 % of Greywater and wastewater from all buildings on the Maejo University campus are collected using the separated sewer system and transported through a piping system to treat at the MJU Wastewater Treatment Plant. The flow diagram of a wastewater treatment plant and piping system is shown in the picture and link:
https://erp.mju.ac.th/openFile.aspx?id=NDc3MDM1&method=inline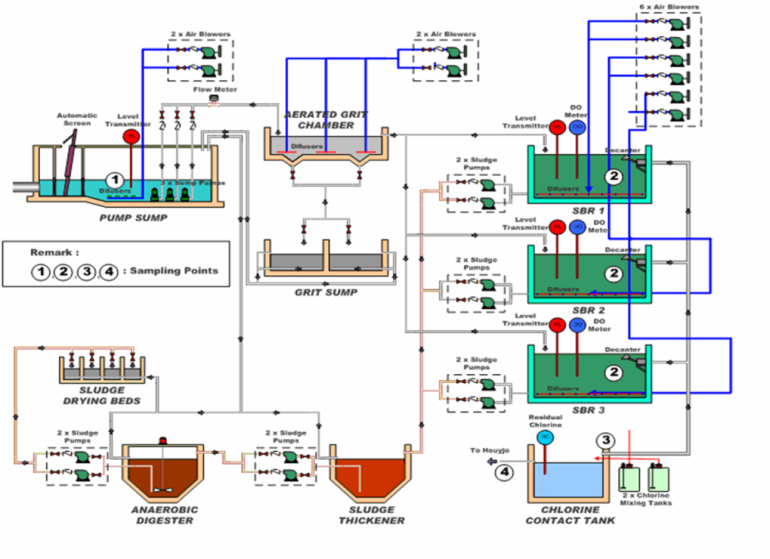 For the wastewater treatment system, Sequencing Batch Reactors (SBR) have been used to treat approximately 1600 m3 / d. All routine treatment parameters such as BOD, COD, pH, DO, TKN, SS, etc. were analyzed by technicians. The treatment performances were also confirmed by a certified laboratory.  High performance of WWTP was achieved with a treatment efficiency of more than 90%, which is safe to release to the environment.  The results of wastewater analysis are reported as followed;
https://erp.mju.ac.th/openFile.aspx?id=NDc3MDMw&method=inline
The effluent from the treatment plant is further reused for landscape irrigation and agricultural purposes on the MJU campus. Approximately 1000 m3 / d. of the effluent or 62.5% was recycled by transferring through the piping system to storage in the pond. This storage reused water was used for landscape irrigation and horticulture crop during the dry season on the campus through the PVC piping system. Sludge from the treatment plant was stabilized and dried before using as a soil amendment for agricultural and landscape purposes on the campus.
Since the year 2020, MJU has launched a new project of the upcycling water treatment plant to upgrade the effluent from the current wastewater treatment plant with a budget of 18 million baht. It is now in the process of construction which will start up the system by next year. This project aims to upcycle 100% of the effluent for water conservation and agriculture production process. Moreover, the ecological sanitation or "ecosan" was installed with a total amount of 303 toilets. These covered 7 main buildings including the main canteen, sports complex, the 70-year study center, the 80-year study center, Agricultural Faculty, swimming pool, and Chootiwat Building. Nearly 50 m3 of urinate was safely reused through piping systems with 5 main springer points for landscape management within the campus.